---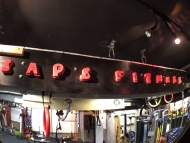 ---
About SAPS Studio
Looking for something different? SAPS studio is all about making training fun and enjoyable. Always looking to innovate and create new exciting training concepts SAPS boasts a unique and custom built climbing apparatus and salmon ladder for the ninja warrior fanatics, If ninja warrior is not for you, don't despair, we also have monthly fit light challenges as well as other fun exercises to make your workout just a little more enjoyable!
Language spoken: Cantonese
Business Specialties: Personal Training, Group Training, Functional training
Years of Experience:
Education:
Qualifications, Experience and Certificates: All trainers are certified with additional certification in first aid.
Location Map
Room 6, 15/F, Eastern Centre, 1065 King's Road, Quarry Bay
Exclusive Offers
No Offers
Fan Feedback
You have to be logged in to send private messages
Videos
The user has not added videos yet.